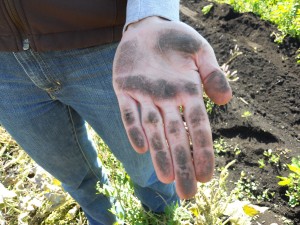 What a difference seven years makes. As Farmers Ending Hunger marks its seven-year anniversary, Oregonians can be proud that our farmers, ranchers and food processors are doing their part to end hunger. From a humble beginning in the fall of 2006 when Farmers Ending Hunger delivered its first 173,000 pounds of frozen peas to Oregon Food Bank, we reached a milestone in 2013 when our growers donated 2,457,375 pounds of high-quality food products.
Partnerships make this remarkable achievement happen. A consistent, deliberate approach to building relationships among the agricultural community, Oregon Food Bank and the public created our success. For example, we just delivered 200,000 pounds of all-purpose baking mix, better known as "Pancake Mix", to Oregon Food Bank. To produce the mix, Pendleton Flour Mills milled the wheat, Continental Mills blended and bagged it into 1 ½-pound bags and Oregon Food Bank moved and distributed it. And let's not forget the Oregon farmers who donated over $33,000 worth of wheat to get us started.
Other examples include vegetables grown from the Willamette Valley and Hermiston area processed by Norpac Foods in Stayton, Ore. and cattle donated by Threemile Canyon Farms in Boardman, Ore. and processed into hamburger by Walt's Wholesale Meats in Woodland, Wash. and Interstate Meats in Clackamas, Ore.
None of this would be possible without the final piece of the partnership — the public! We invite individuals and businesses to "Adopt an Acre" to help get these products from Point A to Point B in a form that easily fits into a food box. In 2013, we saw all cash donations top $100,000!
Wonderful, regional non-profit foundations have also supported us including Oregon Community Foundation, Collins Foundation, Lamb Foundation, Spirit Mtn. Community Fund, Providence Health and Services, First Stop Portland Foundation, Walmart Foundation and TomKat Foundation.  Thank you!
The bottom line is that our great partnerships at Farmers Ending Hunger are helping to end hunger in Oregon. In our seven years, farmers and ranchers in Oregon have donated over 11.8 million pounds of high-quality food to feed hungry people. We have a long way to go to alleviate hunger, but we have come a long way in such a short time.
You have our greatest appreciation,
John Burt
Executive Director